If you never heard of pinhole glasses, you are in for a treat. These glasses are amazingly effective in improving your vision long term, if you use them regularly.
The multiple tiny holes that occupy the black plastic lenses of the glasses are the secret to making these little gems so effective when you wear them. (see photos below)
If you have trouble reading, they will improve the clarity of your images immediately when looking through the lenses—no matter how poor your vision may be when you begin. The words will instantly become perfectly clear, and you might even wonder how this is possible so quickly.
Although it may feel a bit strange when you first put the glasses on—you will quickly forget this initial discomfort when you see how even the smallest print, can be read effortlessly.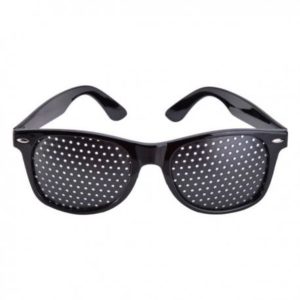 I know the first time I ever used them, I was in total awe.
These glasses are extremely effective on their own, and when combined with some powerful eye exercises—will improve your vision naturally in as little as three months. There are several styles available, and I've included photos two of the styles for you to view. I have also included a chart (below) showing how they work.
You can purchase the glasses online, and the prices will vary—yet the prices are all quite reasonable considering all they do. Type in "Pinhole Glasses" in the address bar and many options will come up for you to choose from.
Eye Improvement Books:
There are several excellent eye improvement books on the market… and I am including titles to the two below, because I own both copies.
Dr. William Bates was one of the original pioneers in this field… and I personally know Robert Lewanski, having met both "Roberts" at a conference in the early 80s. They were both speakers and workshop facilitators at the event.
The Bates Method for Better Eyesight Without Glasses
by William H. Bates
Perfect Eyesight: The Art of Improving Vision Naturally
by Mr. Robert A. Zuraw (Author), Mr. Robert T. Lewanski (Contributor)
Enjoy experimenting, and I would love to hear your personal experiences as your eyesight improves!