Here's a little trick I learned from my mom.
I don't know how many of you have ever had the experience of wondering if an egg was raw or cooked as you held it in your hand.
I know I have!
Perhaps you may have forgotten to mark the cooked ones, and they somehow managed to sneak back into the refrigerator—with no recall on your part as to how they got there!
Yes, it could have been a 'senior moment,' or any variation of this scenario—yet the mystery remains to be solved…
Here's a simple and easy test to check which is which… (RAW or COOKED)!
Ready?
PLACE EACH EGG ON ITS SIDE TRY TO SPIN THEM ON THE COUNTER TOP!
That's it!
Just spin them…
If they spin quickly– – They're cooked!
If they just seem to struggle and lop along, looking like they need a strong energy boost to get them going—You guessed it!
They're still RAW!
Mystery solved!
How easy was that?
By the way, there is nothing worse than thinking an egg is hard boiled, and as you attempt to crack the peel to remove it… you are shocked to discover a wet, gooey, mess!
Think we have ALL experienced this a time or two!
So now you know what to do so it never happens again!
(Just curious… How many of you knew this before you read the post?)
BONUS – how To Peel A Hard Boiled Egg Correctly!
Three tricks really…
After the eggs come out of the pot they were cooked in, OR from the egg cooker…
1. They gotta be cold (they do well when they're placed in ice water for a few minutes)
2. You gotta tap and crack the shell on top and bottom… then gently ROOOOLLLLLL the egg on the counter
3. Peel the rest of the shell under COLD running water… VOILA! Perfect every time!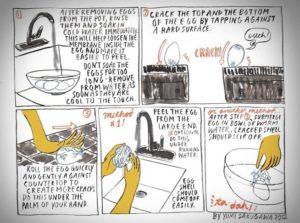 Here's a few fun things you can make with your eggs…
Surprise your family and make them SMILE with a few of these little guys on their breakfast or snack plate!!!